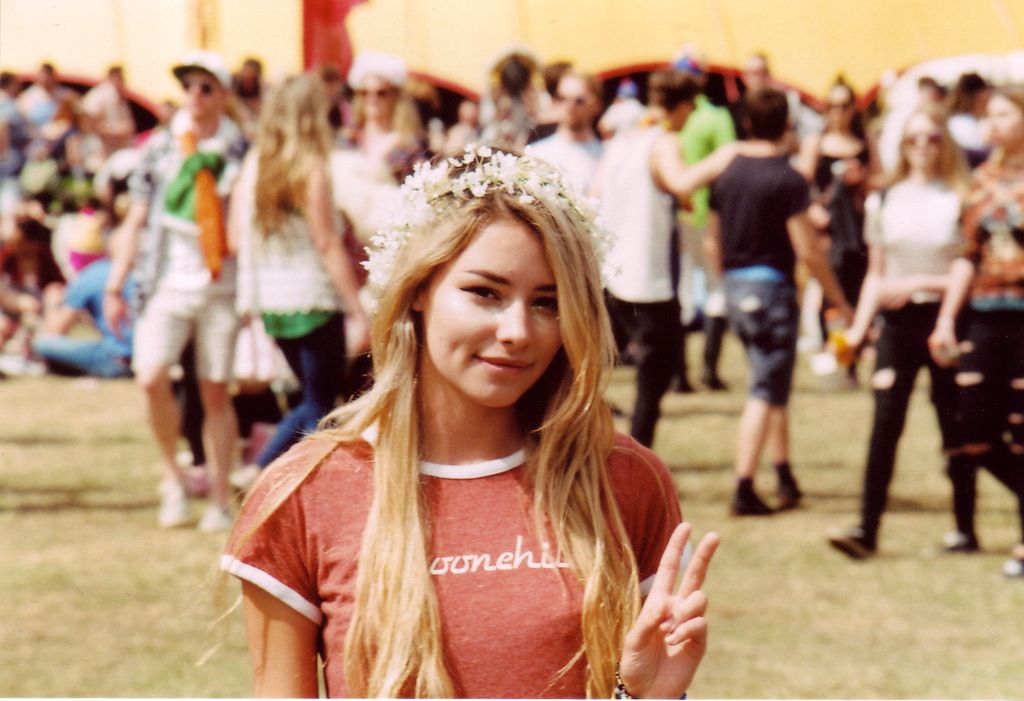 Prologue:
Festival season was arriving, and I wanted to go to Body and Soul. In 2011 I had gotten in as a performer, and in
2014 I had gotten in on sheer entitlement
. Many other people might look on my history of playing at festivals and getting freebies as sure evidence that I have had a good run at things and am owed nothing. What was clear to me was that my love of going to music festivals far outweighed my love of paying for tickets. In 2014 Body and Soul sold out, and even if it wasn't, I was broke as a joke and could not afford to buy a ticket. This was back when my career as a DJ was running dry and I had to resort to
writing erotica
to make ends meet. These days I have a full-time job with regular hours and a regular paycheque, which makes it harder to justify that the universe owes me a complimentary weekend pass.
If I had to get in, then it would have to be earned. And by earned, I mean blagged. After some online research, I found the details of the agency handling the publicity for the festival. They were e-mailed, and as a blogger/freelance photographer I would like a weeked pass for the festival, as my writing style is that of the man on the ground I would not require an access all areas pass, a common or garden one would do. Fingers crossed they follow the links and be so enamored by my writing style that they overlook that the blog was not updated in almost two years. They replied, thanking me for my interest in the festival, but unfortunately all press passes had already been allocated.
The weekend before Body and Soul I was helping a friend move some furniture, and he asked me if I was all set for the festival? I started explaining that I didn't have a ticket and had made no arrangements for time off work, so it was looking highly unlikely. He looked at me askance asking was I not playing this year? Alas no, but to be fair I'm no longer as actively involved in the DJ scene as I once might have been, and dare I say it, am no longer relevant. A few weeks previously another friend had asked would I fancy DJing with him in Cork on Friday the 17th, but I was non-committal as it would clash with the festival. On the morning of the 16th I texted him saying that Body and Soul would not be happening for me this year and wondering if his offer still stood? Sorry man, the gig has been pulled, problem with the managers of the venue, you know yourself.
Just before I went to bed on Thursday evening my phone went off. It was Mr. Whippy, he was supposed to be doing a tag-team set with Lex Woo on the Saturday night of Body and Soul, but Lex had pulled out at the last minute due to either health problems, woman problems, or both. Sorry for the short notice, but can you fill in? You'll get a weekend pass for your troubles.
Friday:
Festival season is also
swimming season
, and as I could not miss a full weekend of training, was in the pool at 7am to get in a session before work. Then it was a matter of going to work and asking my boss to give me time off to go fluting around some fields in the midlands at short notice. After scoring a half day, I went home to find an e-mail from Mr. Whippy saying:
-I'm awful sorry Herringbone, but there is difficulty changing names on the lineup at this stage of the game, and they'll be ID-ing at accreditation, so I'd hate for you to waste your journey.
Sorry this seems to be so difficult,
W.

I replied:
-No worries Whippy, I've arranged time off work, so now I'm just going to get my shit together, then head up and see what happens. If you can get Lex's passport/driver's license somehow ferried to the festival that'd be great, otherwise I will have to be ballsier than Ballsy McBallsface!
H.
As quickly as possible, I loaded up my van with a duvet, pillows, inflatable mattress, camera, films, flash, batteries, sufficient underwear and clothes. Then gathering all the records used recently in
my podcasts
and putting them in my record bag, I was almost ready to go. Then a slight depression came over me as I realised that all of this would be for naught if I couldn't get in. To get over this, I sat down and watched two episodes of Peep Show on youtube, and feeling infinitely better about being a sad bastard white male, got into my van and hit the road.
The bulk of the journey was spent on the motorway as far as Mullingar, then at Delvin there was a sign for Body and Soul which sent me off on a twenty mile odyssey of country roads. It turns out that this sign was misplaced and sending me in the wrong direction, but after several hours of motorway driving the humps and hollows, twists and turns of Irish backroads were a welcome diversion. Greta is rear wheel drive, and the back tyres are a bit on the worn side which meant I had a wee bit of drift going on at some of the bends. Somewhere out there is a twenty something Halford's hero in a Honda Civic who secretly dreams of being a thirty something IT worker in a Toyota Hiace.
I eventually got to the festival and went straight to accreditation to get my/Lex's wristband. Being the genius that I am, I used Lex's real name then stood there as they went through page after page after page and could not find me. Shit, what if the administration nightmare had blown over and now my real name is down on the list? What was I supposed to say, that I was lying two minutes ago, but this is my real name? After a few more minutes of this, I asked if my DJ name "Lex Woo" was written down by any chance? Ah yeah, here it is, sorry about that, here's your wristband, have a good weekend! Using someone else's pseudonym to get in to a festival, we are truly through the looking glass.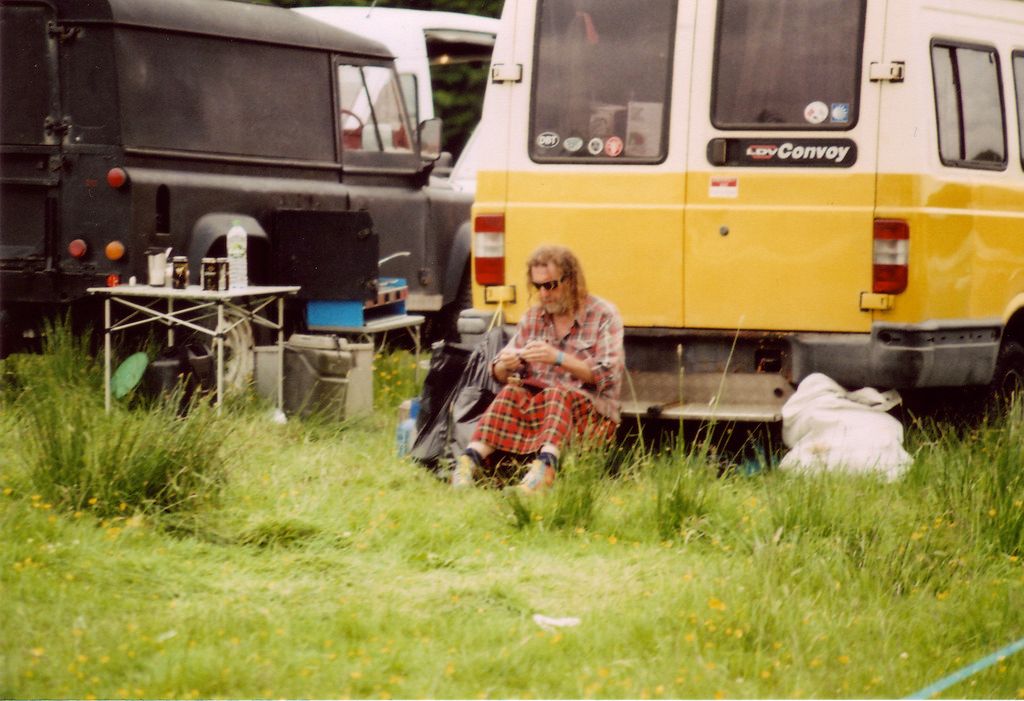 I drove through the boggy meadow that was performer's parking, and found a space in the hollow at the far end. Then it was just a matter of digging out my muddy Meindls from underneath the rest of my crap, sticking on a hoody and heading in to the festival. One of the first observations was that it was just a little bit more commercial than previous years with Bulmers, Vodaphone, and Absolut having prominent stages. Any fears that it had lost sight of what it was about as a festival were put to bed, as I realised that any of the bands or DJs that I knew who were playing this weekend were not getting paid. The Jamaican Village of Trenchtown had lots of red, gold, and green draped around, but only one Jamaican flag. There was a nice funktion one system with great dispersion oozing out "Midnight Marauders" by Fat Freddy's drop, but it was not the same as having an actual JA style DIY soundsystem playing real roots music. As this faded out, the laptop DJ brought in The Specials' "Ghost Town" much to the delight of the crowd. As much as I like both of those songs, they are more at home on a freshman stoner's spotify playlist than in a reggae sanctuary at an alternative music festival.
After a bit more wandering I found the Body Holidays' area where I'd be back to backing with Mr. Whippy the following night. We'd be playing in the Big Barn, where they currently had set up as a mini cinema with the Muppet Show playing. Up until that point there was worry about being able to deliver the goods. My records had been hastily packed, I had no chance to practice a set, and now that the punters had a full night of the Muppet Show, anything I do would be guaranteed to be anti-climactic. Then Rowlf came on and did a rendition of AA Milne's "
Cottleston Pie
". Although this did not change any of the issues previously raised, it set me at ease. Could it be that the message of the song is that no matter what complexities life throws at you there is a simple (albeit nonsensical) response? Or that Rowlf's dulcet deadpan delivery was soothing in and of itself? Or maybe it's that no matter how big or small you are, this combination of The Muppets and Winnie the Pooh is guaranteed to make you feel good all over every time.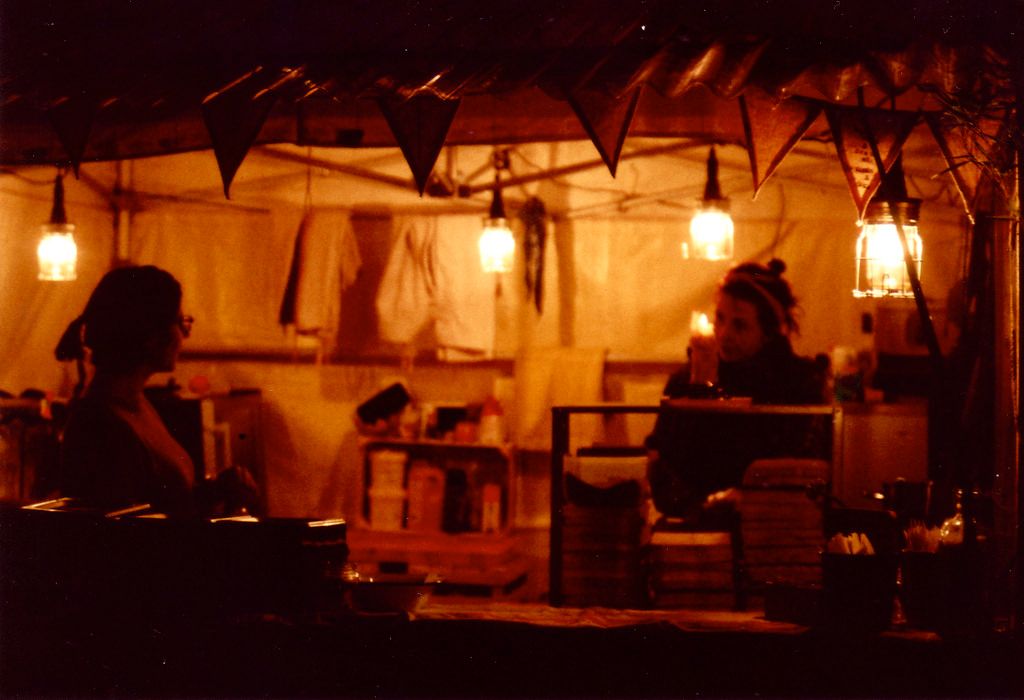 Hearing some tasty and ballsy guitar rock streaming out of the Bulmer's tent, I wandered in to see what was going down. It was The Shaker Hymn, and it was pretty embarassing to say this was my first time ever hearing them even though I'm friendly enough with two of the lads in the band. The other bad part was that this was the end of their set and they sounded pretty darn good. If I make a solemn pledge to go and see them the next time they're on in Cork, will that make me less of a bad person?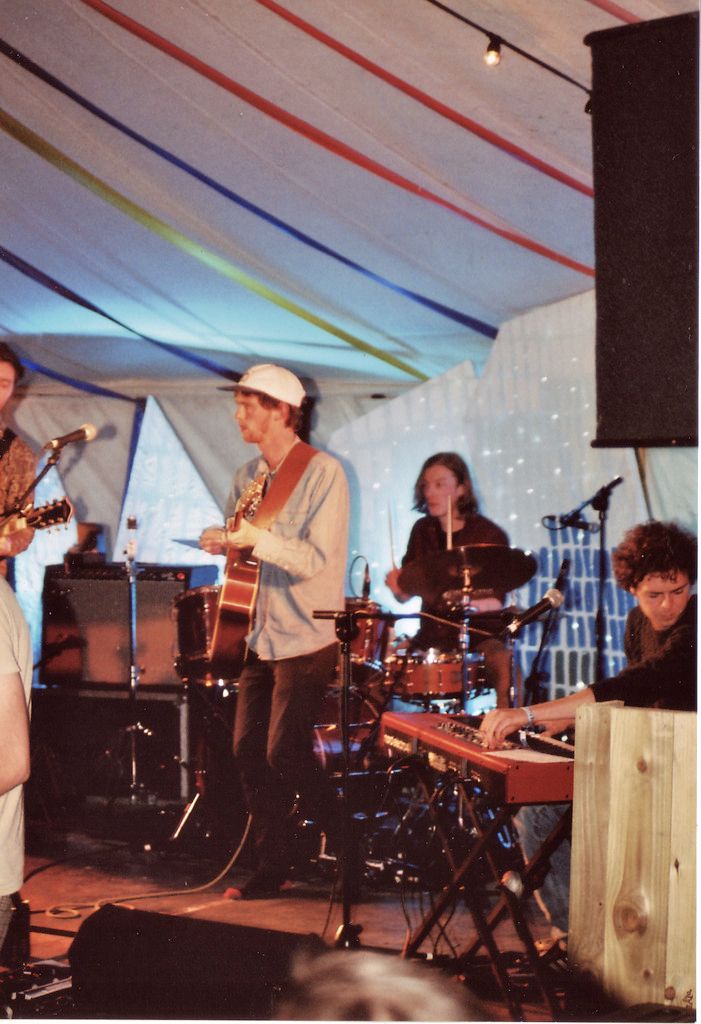 The rest of the night was uneventful enough. It was really just tramping about to get the feel of the place, hoping to stumble upon something engaging. A later visit to Trenchtown payed off as the DJ was dropping dusty rocksteady that shuffled on quite nicely. He was a long lean gentleman in a trilby hat and an Adidas tracky top, sticking to the tradition of playing the vocal then the instrumental version. He'd occasionally get on the mic, and (thankfully) refrained from using misappropriated JA patois. When he moved into some harder dancehall, I moseyed on some more. It was getting late, I was getting tired. Sleepy time in van land beckoned.
Saturday:
As a morning person, I'm at my most productive in the AM. This also means that once it gets bright, it's very hard for me to stay asleep. So in spite of my best efforts to get well rested, at 8am I was tramping around the main site wearing the kurta and bobble hat that I had slept in. One of the security guards asked if I had forgotten to get out of my pyjamas, and I said yes. The Pachamama cafe was open and it wasn't quite clear if they were just opening up, or were still winding down from the night before. None of this really mattered as a delightfully bleary eyed barista named Anna gave me a proper decent cup of coffee to help kickstart my day. There was only twelve hours left until my set with Whippy kicked off, so me and my coffee sat down on the swinging benches around the now dead camp fire in the Body holidays area. Before long, two wee girls and their parents came along. By funny coincidence, the mother (who was just a few years older than me) was from a village just a few miles out the road from me, and had gone to school in my hometown. We knew some of the same people, but it was apparent from the neutral South Dublin inflection that she had left small town Co. Waterford behind a long time ago. Her fella was a furniture designer and all round cool dude, and their daughters Philippa and Spiderman were fucking hilarious. I have a small army of nephews and nieces at this point, and playing with them is always the highlight of family gatherings for me. In this culture saying that one likes children is something of a no-no for a single man, and it's a definite no-no for a single man who drives a van. We played a few games of football with an imaginary ball, and if you think the offside rule slows down the action, then you can only imagine how much this is amplified when there are two preschool children who are both convinced they are in possession of the imaginary ball. We then played hide and seek.
-You have to find us.
-Ok what do I have to do?
-First you count.
-How do I count?
-You say 1, then 2, then 3 (pause), 4, and 5, then READY OR NOT, HERE I COME!
-Gottit! Ok, 1, 2 ....
After that we played a game of the selfish crocodile, where I was a happy zebra that got eaten by the selfish crocodile. The friendly lion and friendly tiger managed to get away unscathed, and hopefully the happy zebra will forever be remembered as a martyr in their hearts. I liked that the worst possible characteristic in their minds was selfishness rather than blood thirsty, treacherous, or crocodilic. It said a lot about their upbringing, and almost made up for their lack of interest in dinosaurs or not knowing what noise a zebra makes. As much fun as it was, I was hungry so said my goodbyes and wandered off to the walled garden to get some tastiness into me.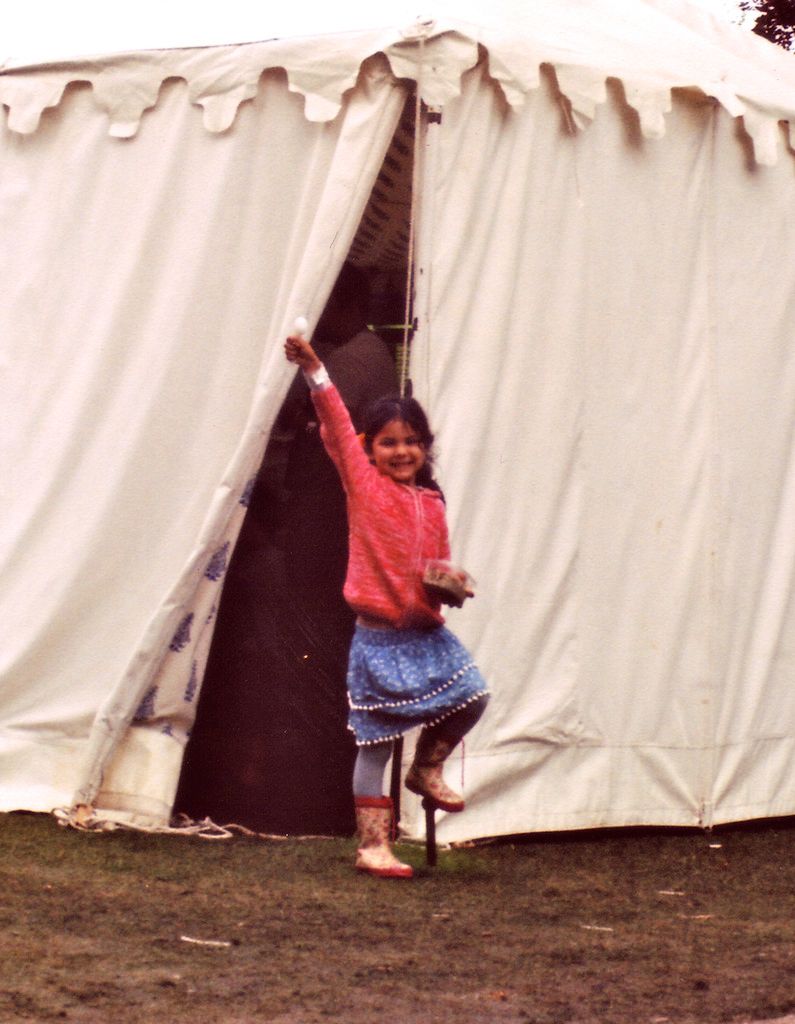 I ordered a papusa from a vegan foodstand and to my delight pronounced it correctly first go! I explained to the staff that I always get nervous ordering new food stuffs as the slightest mispronunciation can lead to withering glances from the serving staff. They smiled to assure me that no they were not that type of smug condescending, so I then asked if the papusa contains "kwinoa". It was fun to see their smiles drop as they realised they are exactly that brand of smug condescending. I only came here for breakfast, but ended up teaching the staff a valuable life lesson, this has been a rich experience in so many ways. Then a young man appeared next to me wearing the most unique woolly jumper I've ever seen. It was sleeveless, with an opening at the back which (conveniently) let the world see his ornate back tattoo, but also had an overly convoluted funnel neck which was made using wools of increasing gauges. If one should ever find oneself in a situation that required a warm chest, cool arms, and an aired out back, this was the exact item of clothing you'd need. He also had one of those leather pocket belts that new agers seem to love even though he was wearing jeans that had a full compliment of pockets. He ordered a juice and after taking a sip, said: "Oh my god, that is exactly what my body needed" in the dryest, most unenthusiastic manner of speaking I've ever encountered. Due to my rich and varied life experience, I was now familiar with the middle class reserve, and have also overheard hipster-ish detachment in coffee shops. This was a combination of both that would have been considered sarcastic except that sarcasm entails some level intonation. The other thing I noticed, was that it was working. The girl behind the counter was hanging on his every monotone word, and he knew it. Well played young man, well played.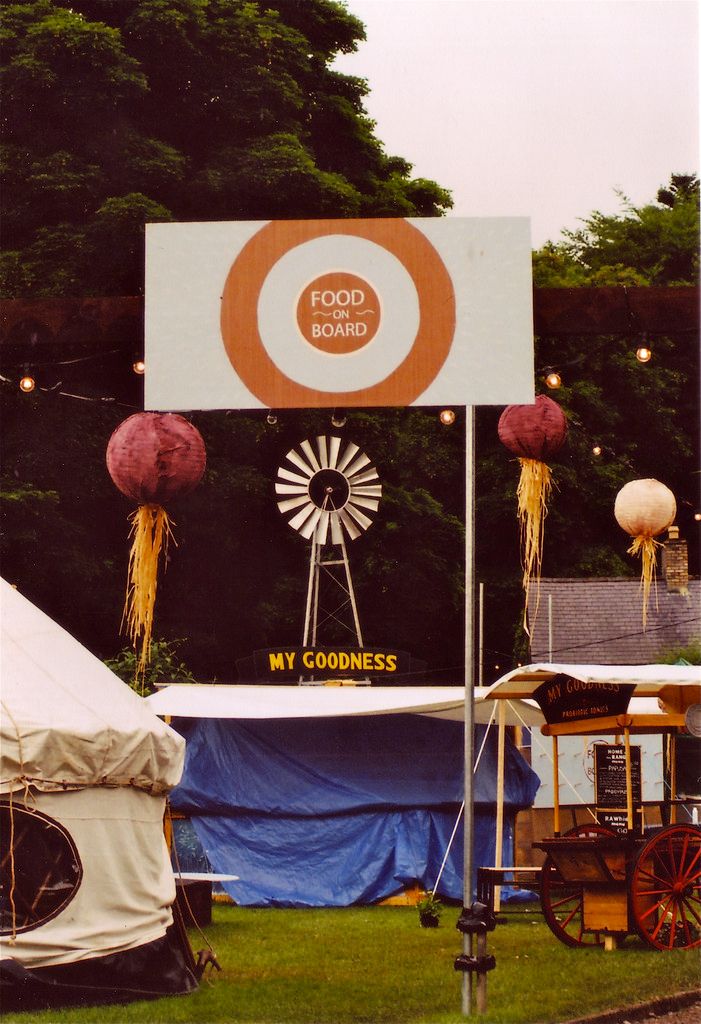 I then wandered back to the van and changed into actual clothes for the day ahead. It was now about one o'clock, so I took my bag of 45s and dropped them off at the Body Holidays lock-up. Often at festivals when they try to set up an area that's full of ironic fun, it can end up falling flat on its face due to being the wrong shade of crappy and naff. Toby and Jess Hatchett, the creative force behind Body Holidays, had the necessary insight to inject their creation with as much naff as possible, and the result was so much fun! The staff all wore blue blazers reminiscent of the Butlins' red coats, had the streakiest fake tans going, and embraced the silliness with the utmost of seriousness. Several times over the weekend I overheard people saying things along the lines of "That terrible holiday camp was f*cking brilliant!" The important part of it was that they had lots of fun things on the go. Swingball, table tennis, fusball, cornhole, bingo, sock wrestling, as well as My House music venue, the Big Barn, and a chillout/feeling burnt out area called Dire Straits. Toby is a
furniture maker based in West Cork
, so everything was very well crafted and his attention to detail was impeccable (the stage door in My House was a kitchen cupboard, so bands would magically appear and disappear through this portal). If there is anything to be learned from Body Holidays is that it's easy to have a clever or funny idea, but executing it well is quite another. Hats off to team Hatchett!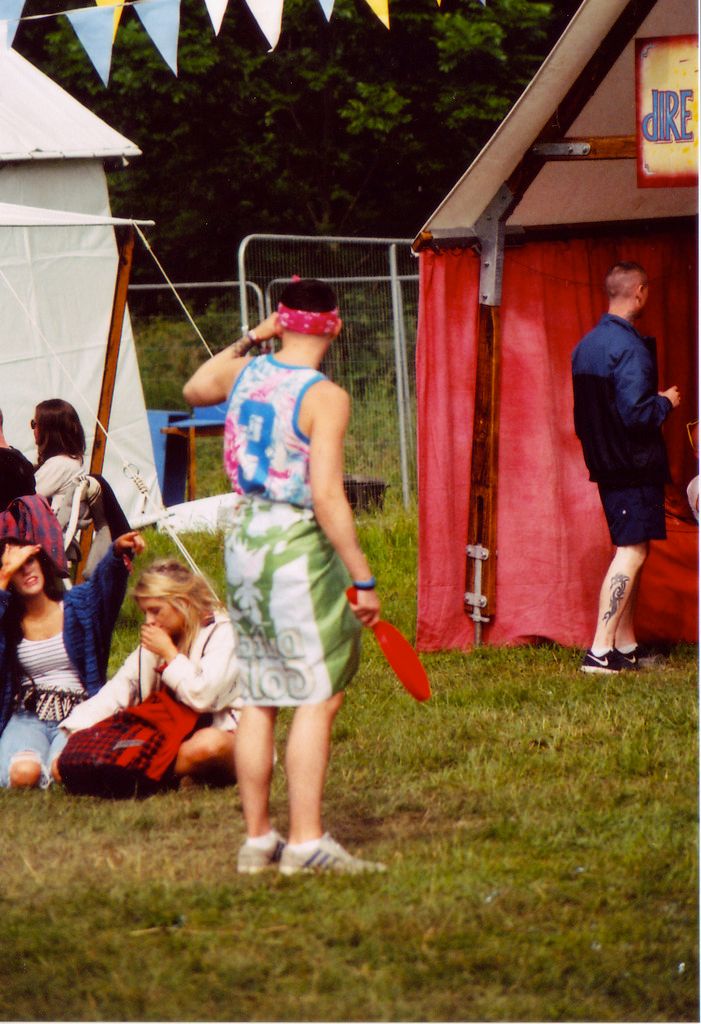 After dropping off my 45s I wandered up to the Absolut stage to catch some of
Aoife O'Neill
's set. Aoife started djing with the Eclecto posse in Tralee last year (she was the Eclecto Box to Gary Fitz's Eclecto Balls), and has since moved to Cork city where she has been a regular fixture behind the decks for venues in the know. Right now she was playing some really nice true school hip hop while brunch was being served at a full length table in front of the stage. It was all going along very nicely when suddenly I started feeling all tingly. "Intergalactic Throwdown" from Mad Dr. X was being mixed in, but it had been pitched down to the point that the upfront pounding bassline now sounded all warm and dubby. It's one thing to hear a favourite song on a big system at a festival, but it is quite another to hear it being played in a way never thought possible. Hats off to the braided lady, Aoife O'Neill, fair f*ckin' play to you!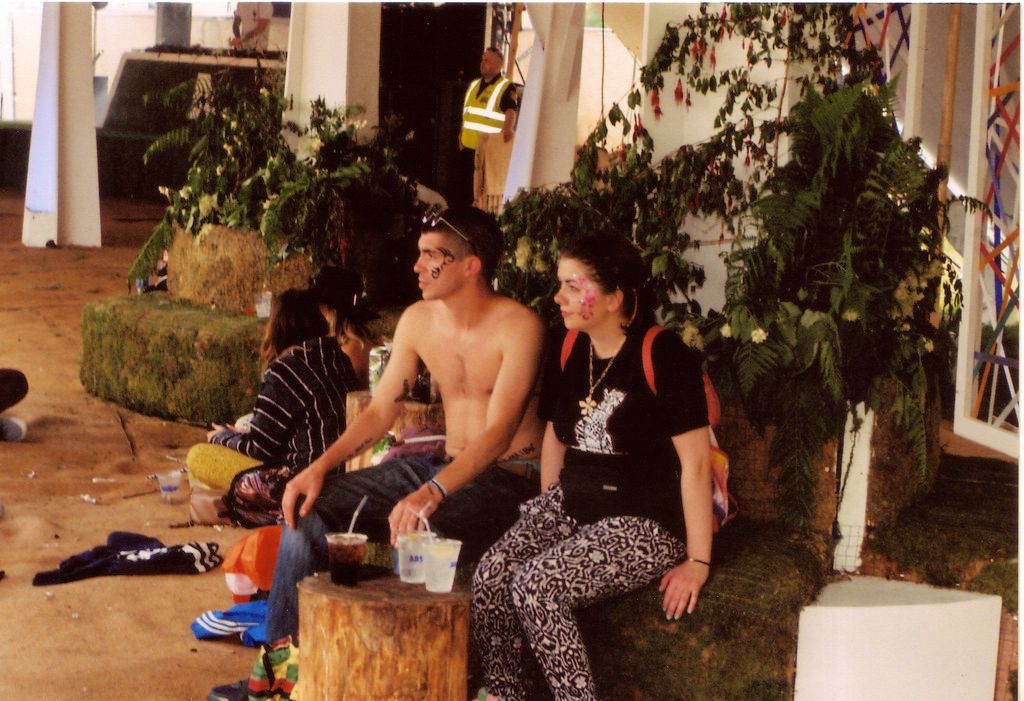 The next item of interest was a panel discussion on Waking The Feminists featuring Margaretta D'arcy and a representative of women in Irish Theatre. Margaretta kicks serious ass. One of the most well worn clichées of late is people wanting "to start a conversation", which became trite and tired very quickly (and people are STILL using it). Margaretta made it clear from the get go that she hoped to start blazing rows and arguments. She compared herself to the mad woman in the attic in Jane Eyre who would burn down the entire house at the end, or the witch who cursed sleeping beauty for not being invited to the Christening. The first time she was arrested was for showing solidarity with the Armagh Women's Prison Dirty Protest on International Women's Day. She then found herself in prison with the dirty protestors, but unable to defecate for days. This led to suspicions amongst the other prisoners that she was a government spy planted to infiltrate them. Finally, after almost a week her bowels moved producing a turd the size of a grape, but it was enough for her to be accepted. If
Orange is the new Black
steal that plot line, remember that you read it here first. She was also outspoken in her opinion that the EU was a capatalist conspiracy to devalue women's unpaid work in the home, then get them out in the workplace where they would get paid less then men. She then chastised the Women in Irish Theatre representative, saying that if women in theatre really wanted to be taken seriously, they would band together and do something radical that is worthy of getting sent to jail. If you find yourself thinking "Well that's easy for her to say", then take a
quick read of this.
The sun was coming out and not wanting to go back to the van to get sun screen, I sat in a shady spot in the walled garden, and caught some of
Gilbert Steele
's set in the Idle and Wild cocktail bar. I've rarely met a DJ whose style I didn't like that I also didn't like as a person, and Gil ticks both of these boxes with much gusto. When I first met him, I assumed that Gilbert Steele was a Max Power style pseudonym (as it happens Gil is a massive Simpson's fan) so our first ever conversation went along the lines of:
-Your real name is Gilbert Steele?!
-Yes.
-REALLY?! Your name really is Gilbert Steele?!
-Yes.
-As in, your actual birth cert given name is Gilbert Steele?!
-Yes.
This is not the actual transcript, as in real life I kept repeating myself over and over in that manner for over half an hour. This was several years ago in The Realt Dearg, and Gil has since gone on to become one of Cork's most respected and beloved DJs. At Body and Soul he was dropping some really tasty mid tempo stuff, working from Mr. Scruff, to Tee Scott, to Jamie Principle, which was relaxing enough to allow people sit down and soak it up, but energetic enough to give the garden a party atmosphere. Gilbert Steele: Great guy, great name, great DJ!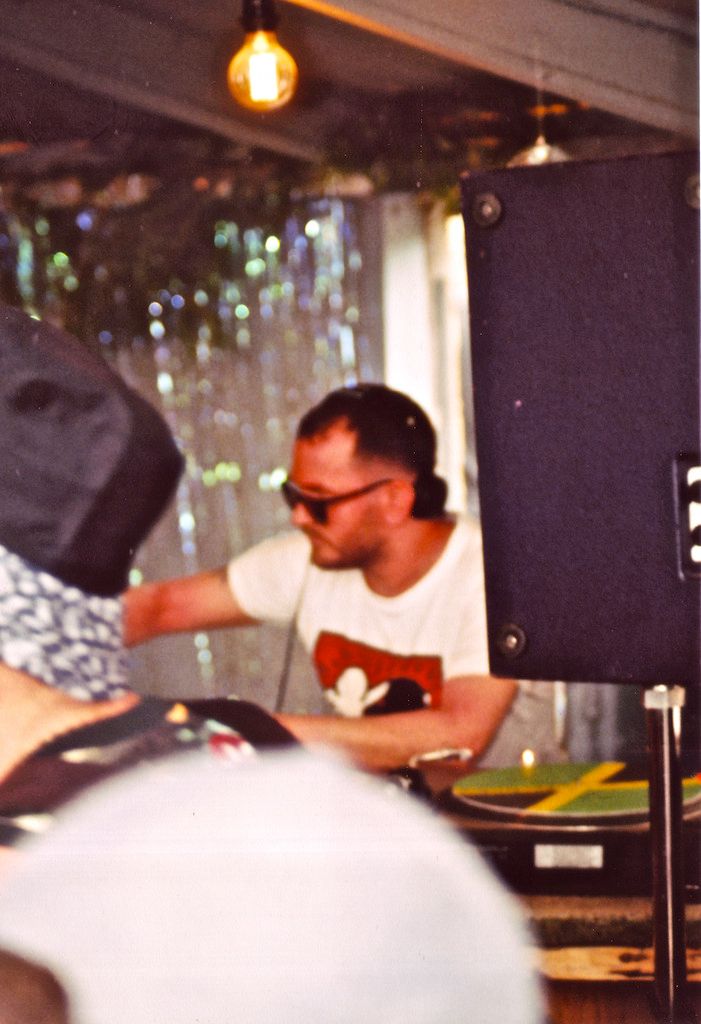 As lovely as all of this was, time had been ticking away and I still had a bag of records waaay over in my van that would need to be brought to the Body Holiday area. In Cork, I'm known for playing laid-back sets. If you want a DJ to keep the crowd in their seats, I'm your man! If you want a DJ to keep the crowd rocking all night, maybe you should call someone else. People would be wanting to dance up here, and there were so many factors that were bothering my head. I'm gigging less than once a month, so currently don't have a working set. Also my record bag was packed in a rush, so was unsure whether I'd be able to build a set from what was in there. Worst case scenario I could end up playing to an empty tent, and if that happens, just suck it up.
When I got to the big barn, the DJ was blasting out classics from the Doors, Stooges, and Talking Heads, and the crowd were hopping! This would be a tough act to follow, and there was no way I'd be able to keep that energy going. After some finagling to get the turntables set up, I kicked off with some vehrrry mellow dub reggae. After moving in to funk and soul gems, I noticed something weird about the crowd. They weren't leaving, in fact they were staying, dancing, and enjoying themselves all at the same time. I made a move into latin jams and cumbias to turn up the heat, and things really started popping. From there it made sense to go into afro bangers and disco silliness and keep things moving along. Someone had asked me earlier if I had any Pointer Sisters, and I said yes but it's a Sesame Street record and will mess with people's heads if I play it. "C is for Cookie" is an absolute weapon of a track with beautiful female backing vocals, proper disco strings, heavy drums, and Cookie Monster doing lead vocals. As with all great weapons, it comes with great responsibility, and has to be deployed with expert judgement and sensitivity. These are all characteristics that I'm fairly certain I don't have, but if there ever was a time to give cookies to the masses, this was it! It had the desired effect, and after playing some more novelty disco records, I took things down a notch by venturing into boogie territory. If there was a standout moment from that set, it was
Vicki Sue Robinson's "Hot Summer Night"
. The steady groove and constant vocal references to dancing on a hot summer night resonated with the crowd, making for a beautiful mental snapshot that I cannot find the necessary words to do it justice. Shortly afterwards I handed the headphones over to Whippy, and headed out to get a coffee and some headspace.
After getting a coffee, I hung around outside the Big Barn and soaked up Whippy's set. Seeing him and his magical ice-cream van for the first time in Galway market ten years ago had a major impact on me. Since then he has been a mentor, friend, and occasional co-conspirator. A real highlight of his set was a version excursion based around James Brown's "Paid the cost to be the boss" which went down really well with the crowd. Lots of Afro jams and plenty of funk, soul, and hip-hop workouts later, I felt the cool night air creep in so ventured back inside to get my bobble hat from my record bag. "Do you fancy going one on one for a while". The bulk of my scorchers had already been played, and Whippy had waaay more records with him than I did, but shur why not? "Sure, but I play to win, bitch!" The one on one session was a lot of fun, initially there were very obvious instances of us trying to outdo one another, but as it went on our main concern was to keep the dancefloor heaving. It was like playing a game of scrabble as although I could plan my next move, that plan could quickly be scuppered by whatever he played. It was really intense, in the best possible way, as we both kept fishing out the bangers to keep the dancers, and each other on our toes. All good things had to come to an end, and the power went in the tent. This was fortunate as I had only about five unplayed records left in my bag. When the power came back on, Whippy took over the controls, and once again I headed off for coffee and headspace.
Sunday:
I woke up late and it had been raining all night. My records were over in Body Holidays, and I had aches and pains all over from the previous nights DJing and dancing. My original plan was to hang around until four or so, and then head away on down to Cork. Sunday Times were closing out the Wonderlust Stage that night, but hanging around a music festival on a rainy Sunday, tired, sore, and sober can only be so much fun. It was now two o'clock, so if I was to walk in get my records, then head back to the van, I could be on the way home by three. So after a trudge through the sludge, slinging a heavy record bag onto my already aching shoulders, and trudging back through sludgier sludge, I was ready to hit the road. The key turned, the engine roared into life, and the backwheels spun about in the mud as I sat in the one spot. I repositioned my cargo so that the paving slabs and record bags were over the back axle which would hopefully help gain some traction. This made no difference at all, so I headed up and found three lads who were getting ready to leave to see if they'd give me a push. They gave me a push, but it made no difference. We even tried putting the paving slabs just under the tyres and tried to get the van up on top of them for more traction, but nada. I thanked them for their help and went back to pondering. There was a crew Hilux parked up next to the portacabin, so I went up and asked if they'd give me a tow out of the hole, but it was being used for another job. There'd be tractors coming along at some point and they'd pull me out. So I went back to my van and sat there waiting for the cavalry of tractors that would come over the horizon at any moment. It was then that I saw a Land Rover Defender at the other side of the field, and its owner was getting something out of the back.
Walking over with my fingers crossed that (a) he'd have a tow rope, (b) he'd be willing to help, and (c) that he wasn't too fucked up to do such. With all three boxes ticked, he drove over to me and hooked the tow sling to the eye on the front of my van, with the other end going around his hitch. He fired up the engine, eased forward, and ping, the hook snapped off the sling! All was not lost as the sling was still intact. So he reversed back to me, then doubled and tripled the sling over to join our two vehicles together. We got into our respective drivers seats, he started moving forward, and I was following behind him. Success!!! The tripled over sling was not only sufficiently strong, it was also alarmingly short. The front of my van was less than a foot away from his tow hitch, meaning that if he braked suddenly, poor Greta's face would be properly smashed in. He stuck his arm out the window to signal he was about to stop, and Greta's face lived to tell the tale. We undid the sling, and I went to drive off, only to find more wheely muddy spinny fun. This time I wasn't down in a hollow, and a group of bystanding lads with cans started pushing me to get me going. Once I got moving, I resisted the urge to get out of the van and thank them all individually, but just kept going and going and going until I was far beyond Body and Soul, fields and mud.
Thanks to:
Mr. Whippy, Toby and Jess Hatchett (and all the Body Holidays crew), my boss for giving me time off work at no notice, the friendly dread that owned the Defender, and Jason Looney for the bail out.